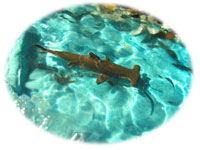 Dimensions:

17" in diameter, ¾ of an inch thick.

Base:15 inches tall.

Description: A slice of the Caribbean to your home! It's like your looking down upon the ocean from a birds view. Three hammerhead sharks circling a reef made of rocks, coral, and crushed shells.

The bottom is sculpted to create the illusion of water. The edge of the sculpture looks like a waterfall frozen in time.

Hammer time is great as a tabletop, wall hanging, or sun catcher in your window.