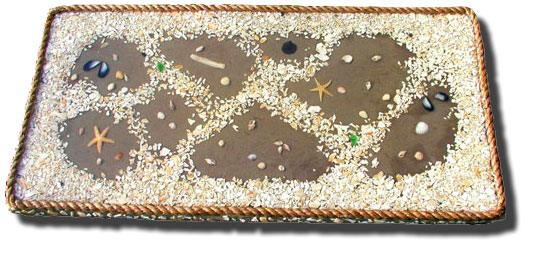 Use as a Wall hanging or Table top
Dimensions:

Description:

Manila rope frames this wonderful table. followed by crushed clams arranged in a captivating pattern. Every table is different and unique. Starfish, seaweed, sea glass, and a variety of shells are randomly placed on a bed of sand. This pattern is available in different shapes and sizes. The legs are made wood covered with sand and shells

The sides is made of sand and crushed shells.
These are the prices for the different shapes and sizes available. Smaller sizes can't fit as many items, but the pattern will be similar.

16 X 16" Square $125.00

17" Waterfall $145.00

Rectangular 29 X 19" $225.00

Wavy 24.5" $315.00

Ameba 22" $275.00

24" round $315.00

41" X 21" Rectangle. $425.00
Custom Ex - Aqua - Amberald crush - Cool Ambers - Crushed amber - Emerald Star - Hammertime - The Shore - Manila Shores - Manila Mussels - Mussels - Mussel Mosaics - Natural Crush - Super Star - Serene Scene - Seashore -